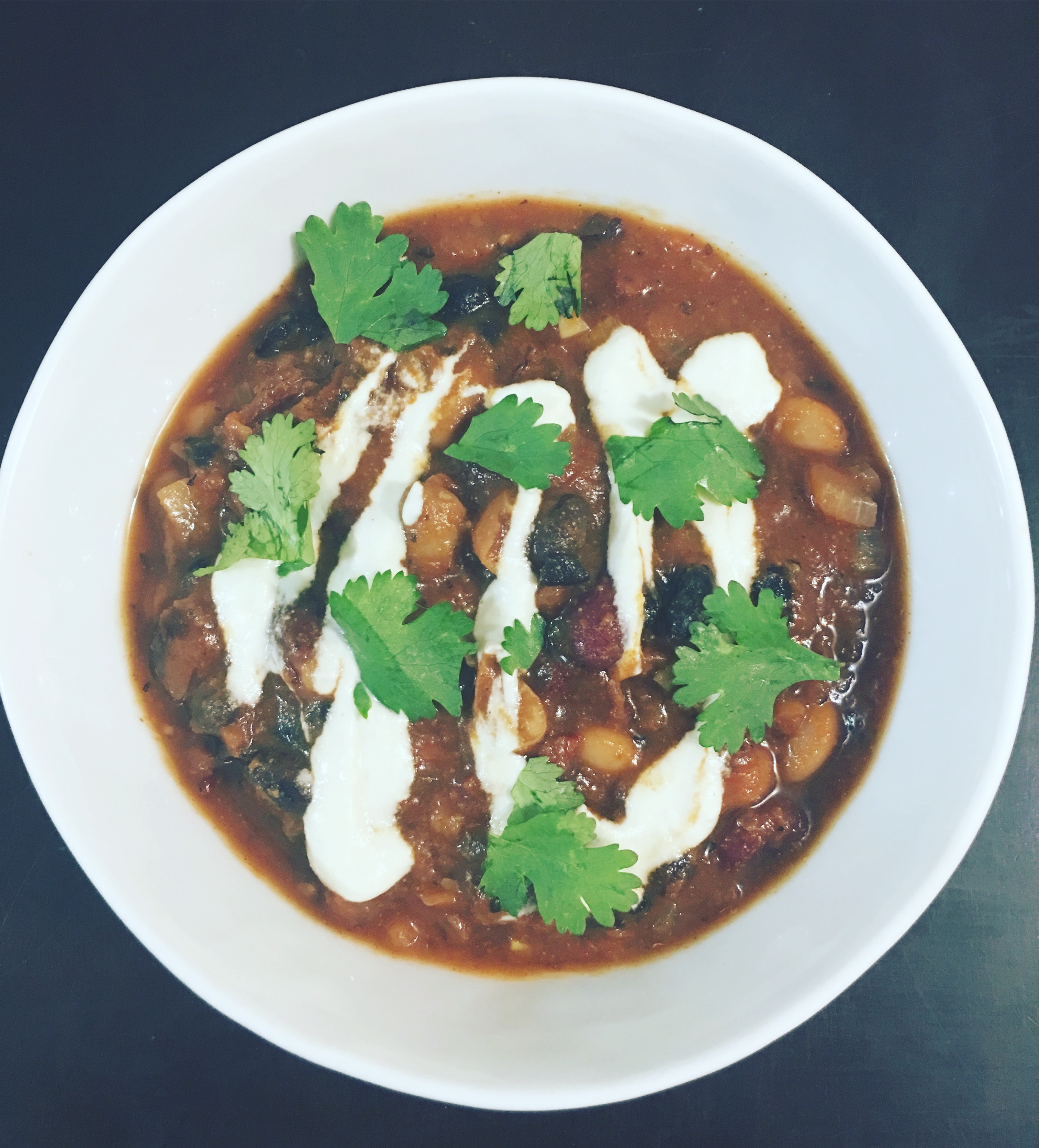 Author: Brittany Biggers
Prep time: 20 mins
Cook time: 30 mins
Total time: 50 mins
1 large white onion, finely chopped
6 cloves garlic, minced
1 15 oz. can black beans
1 15 oz. can pinto beans, drained & rinsed
1 15 oz. can dark red kidney beans, drained & rinsed
2 15 oz. cans fire roasted diced tomatoes, drained & rinsed
1 15 oz. can organic pumpkin puree
3+ tsp. minced chipotle peppers in adobo sauce (add more if you like extra spice)
1 cup vegetable broth (+ more for thinner soup, optional)
1½ Tbsp chili powder
1 tsp ground cumin
1 tsp smoked paprika
1 tsp sea salt
1 tsp ground coriander
Fresh cilantro for garnish, optional
*Optional Lemon Cream Sauce
*2/3 cup + 2 Tbsp raw cashews (soaked)
*2/3 cup water
*3 Tbsp fresh lemon juice (2 small lemons)
*1/2 tsp apple cider vinegar
*1/4 tsp fine sea salt
If making optional lemon cream sauce, begin by boiling 2 cups of water. Remove from heat and let cool for 2 minutes, pour over nuts and let sit for 15-30 minutes. Drain and blend soaked nuts with water, lemon juice, apple cider vinegar and salt. Place in freezer until chili is ready.
For the chili, begin by sauteing onion and garlic in large pot over medium heat. Cook until onions are translucent.
Add remaining ingredients to pan and simmer for 20 - 30 minutes. Add more broth if thinner consistency is desired. Taste and adjust chipotle spice level as desired.
Serve with lemon cream sauce and fresh cilantro.